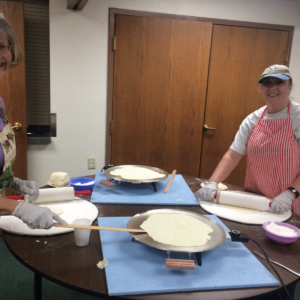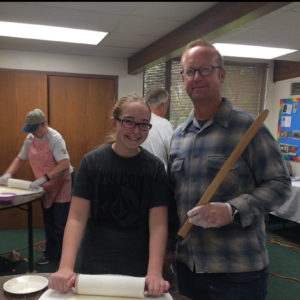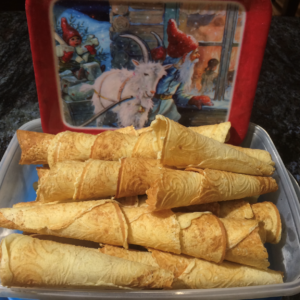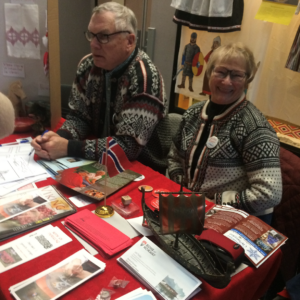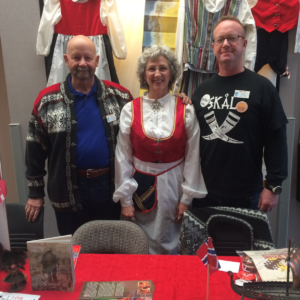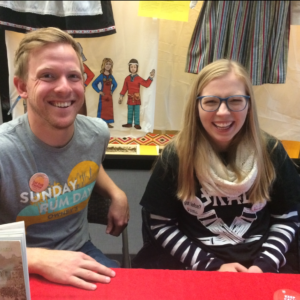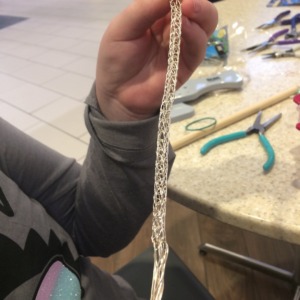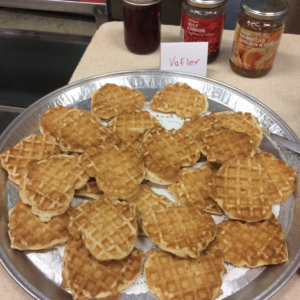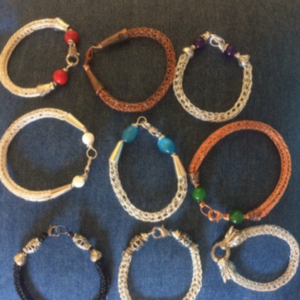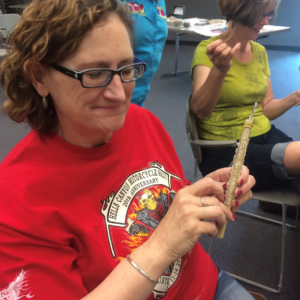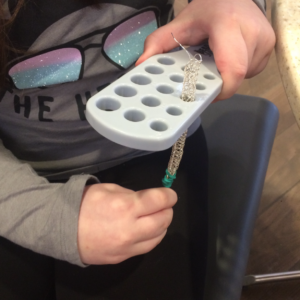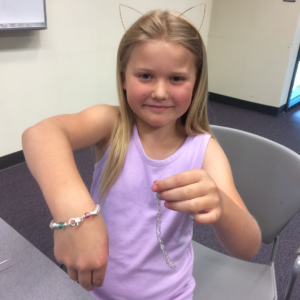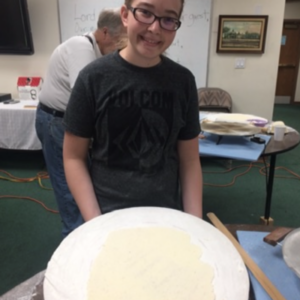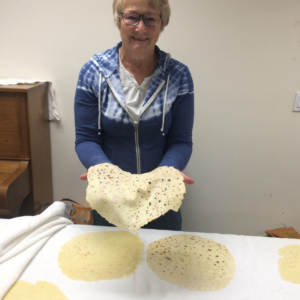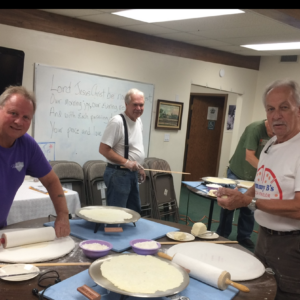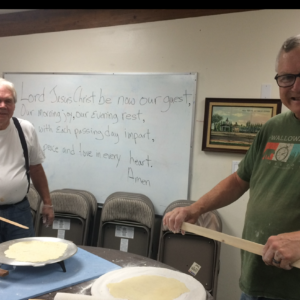 Sons of Norway Tordenskjold Lodge 2-005
In the Pacific Northwest, the Norwegian Culture is represented by the Sons of Norway. The Spokane Sons of Norway was founded in 1907, meaning the organization just celebrated their 113-year anniversary! The mission of the organization is to promote, preserve, and cherish a lasting appreciation of the heritage and culture of Norway and provide quality insurance and financial products to its members.
The organization's original membership requirements were very strict, requiring men to be Norwegian or of Norwegian descent, morally upright, in good health, capable of supporting a family, and be between the ages of 20 and 50.
The Spokane Sons of Norway Lodge was named after Peder Jansen Wessel Tordenskjold. He was an Admiral of the Danish-Norwegian Navy and was famous for his brilliant seamanship, dashing courage, and resourcefulness!
The Sons of Norway observe and celebrate many special days including St. Lucia Day, Little Christmas, Christmas Eve, Christmas Day, and New Year's Eve. These events are centered around family meals, decorating the Christmas tree, exchanging gifts, religious ceremonies, spending time with friends, and going to the mountains for skiing! People greet each other with "God Jul" or "Gledelig Jul" (Merry Christmas) as they meet.
Tordenskjold Lodge members are very fond of contributing to their local community and are proud to donate to various local charities, (Second harvest, St. Margaret's Shelter, Giving Backpacks, etc.), support Ski For Light (program for visually impaired skiers), volunteer at community events, supported Spokane Nordic Ski Assn. Youth Patrol, have given cultural presentations at schools, and participate in parades, the annual Fall Folk Festival, and Winterfest. Their pride and joy is to provide their community with a traditional Lutefisk dinner and bake sale every fall.
You can see photos of our activities on their website
www.sonsofnorwayspokane.com or our Facebook page "Spokane Sons of Norway Tordenskjold Lodge 2- 005".
Sons of Norway welcomes anyone who has an interest in the Norwegian culture to come to events or participate in classes. Folks who become members cite learning about a spouse's culture, socializing and making new friends, learning about the foods and arts of Scandinavia, helping with outreach in the community, learning the Norwegian language, and carrying on traditions of their childhood. Additional benefits of membership include receiving a monthly magazine titled "Viking", access to Norwegian language lessons and "The Recipe File" online, access to district ski lodge and youth camp, a membership pin, free classes in traditional food making, crafting, and arts, opportunity to participate in their Cultural and Sports Medals program, and the ever popular opportunity to ride in a Viking Ship in the local parades!
It is tradition in many Nordic homes to bake gingerbread houses to display on the table to eat Christmas day or later. Many Norwegians decorate a Christmas tree on December 23rd and then dance around the tree singing holiday songs. The tree is decorated with wheat straw ornaments, tiny Norwegian flags, and woven paper heart baskets. Greenery and candles may also adorn the home!
The traditional attire or National Costume of Norway is called a Bunad. The ladies version consists of a jumper or skirt and vest as well as a blouse, small hat, purse, apron, and black shoes with a silver buckle. The dress is decorated with colorful floral designs in embroidery as well as silver clasps and or belt. Jewelry known as Solje made of silver or gold features small "spoons" dangling from earrings or a pendant. The men's bunad includes knicker style pants, a vest, shirt, jacket, and black shoes with a silver
buckle. Some adornment with ornate trim and silver clasps on the vest or jacket may be seen.
The pictures to the right show traditional handmade Viking knit bracelets and traditional attire!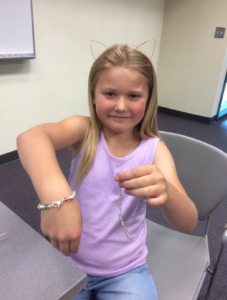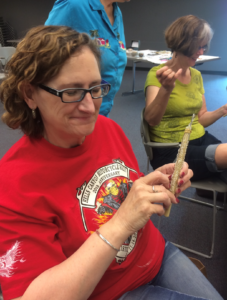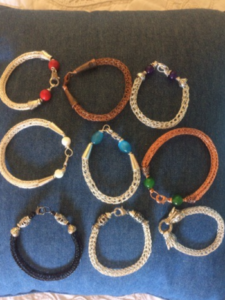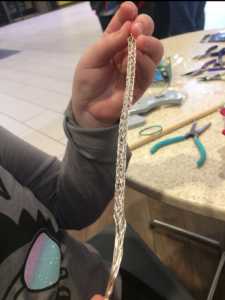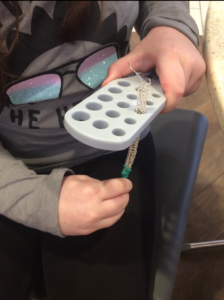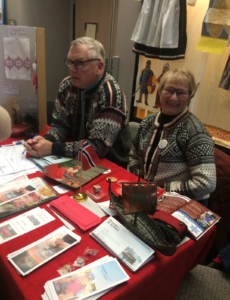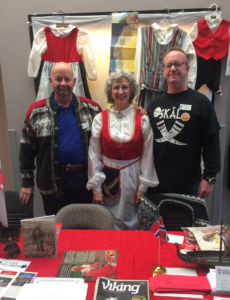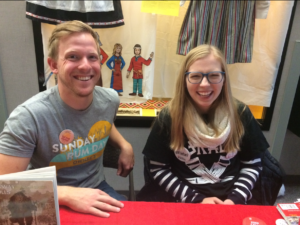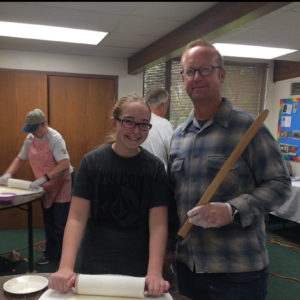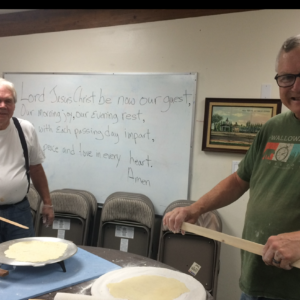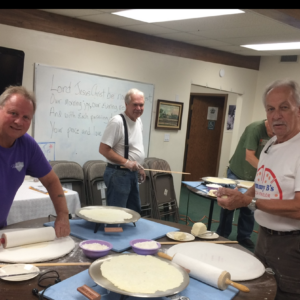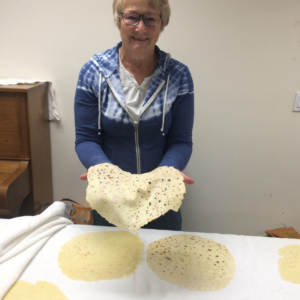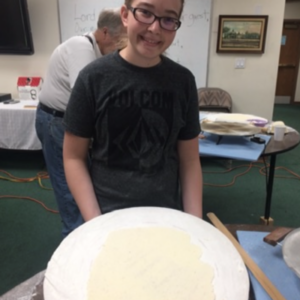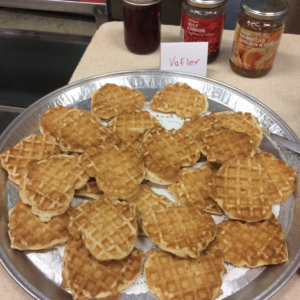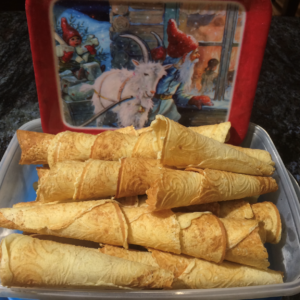 Scandinavians have a Christmas banquet called Julebord, that includes traditional dishes such as Lutefisk (cod fish), Ribbe (pork roast with ribs), sweet and sour cabbage, Lefse (potato flatbread), meatballs, Gjetost (a nutty / sweet brown cheese), pickled herring, lingonberries (wild cranberries), many different traditional cookies, Almond cake, Risgrot (warm rice porridge,) and a traditional alcoholic beverage distilled from potatoes called Aquavit.
Pictured on the left is Lefse making! Lefse is a potato flatbread that is cooked on a griddle, not baked in an oven! As well as Vafler (waffles) which are eaten as a snack, breakfast food, or dessert with various jams and Krumkake, the traditional almond flavored cone cookie, light and crisp!
Learn How to Make a Viking Knit Wire Bracelet
Learn About the Cultural Lodge Boat From The Sons of Norway
Learn About The Culture of Norway and Rosemaling Painting Styles
Learn About Traditional Norwegian Clothing
Learn About Scandinavian Music and Watch a Live Performance