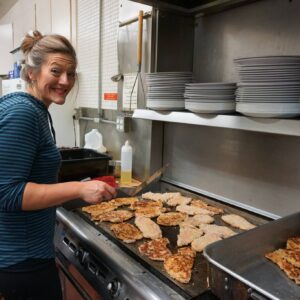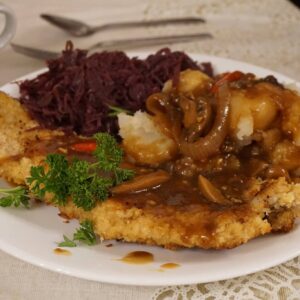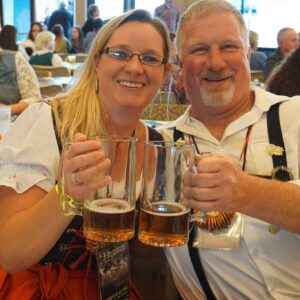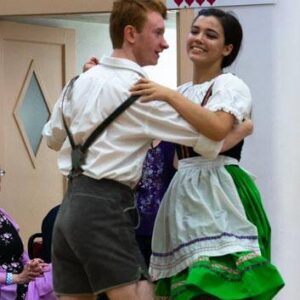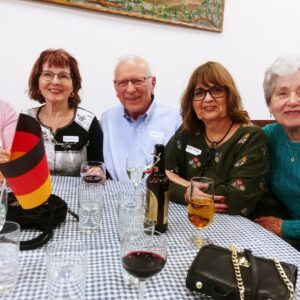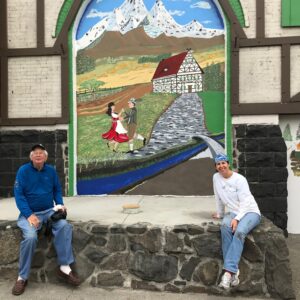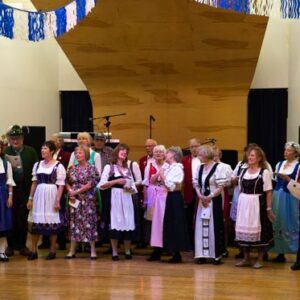 In the Pacific Northwest the Norwegian Culture is represented by the German American Society. The society was founded in 1897 and has been active ever since – over 100 years! Today the German American Society has over 180 active members!
To keep German cultural heritage and traditions alive, the group offers a Christmas service each year where they sing traditional German Christmas songs and gather at the German hall for traditional German Christmas cookies afterwards!
The German American Society is the only ethnic group left in Spokane that owns their building for gathering space! They offer hospitality and learning about the German culture to German descents and anybody that is interested in learning about the German culture by experiencing special foods, music, and dance events!
The most popular holidays in the German culture are Pioneer Day and Christmas!
In Germany the Christmas tree is only set up on December 24th, or Holy Eve. In America the tree gets set up to six weeks prior to Holy Eve! Additionally, in Germany people celebrate St. Nikolaus on the 6th December. St. Nikolaus is a holy man who helped the poor and dressed like a bishop to visit the children in their homes! In America St. Nikolaus has been changed to Santa Claus who comes to children through the chimney on Christmas Eve! In short, the German Christmas traditions are more religious based, while the American traditions are more commercial based!
On Christmas day it is tradition to wear holiday dress or Sunday finest clothing. Goose commonly prepared for Christmas dinner with dumplings an Rotkraut (red cabbage) and apfelstrudel! ThoughSchnitzel dinners, Rouladen Dinners, Sauerbraten Dinners – for dessert: Apfelstrudel & Zwetschekuchen , and Stollen are also common foods during the holiday season! Here are some photos of traditional German foods.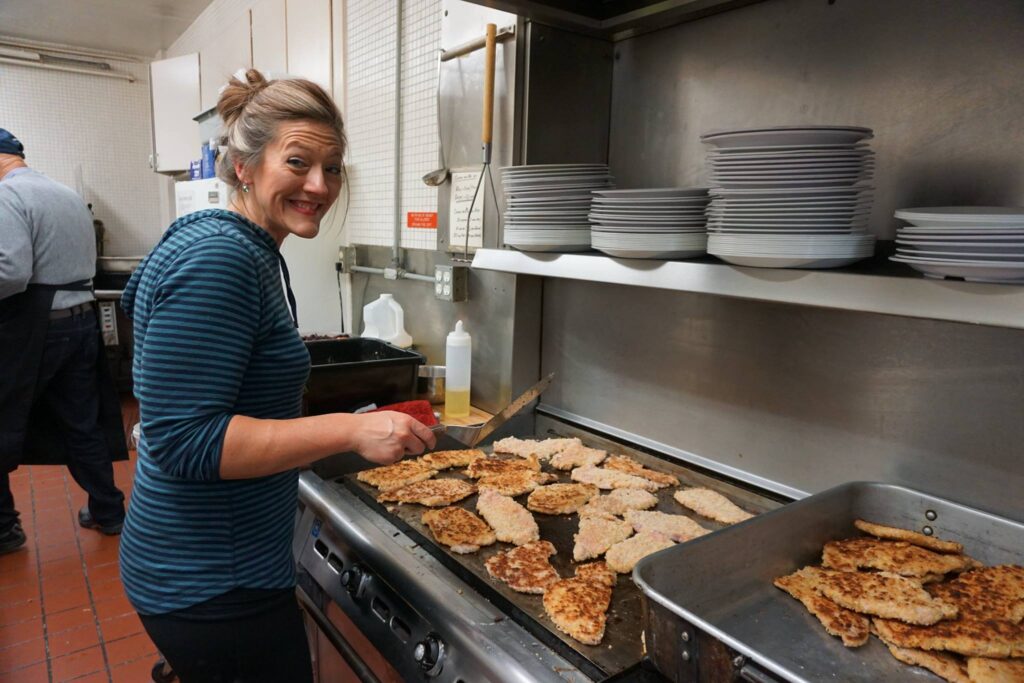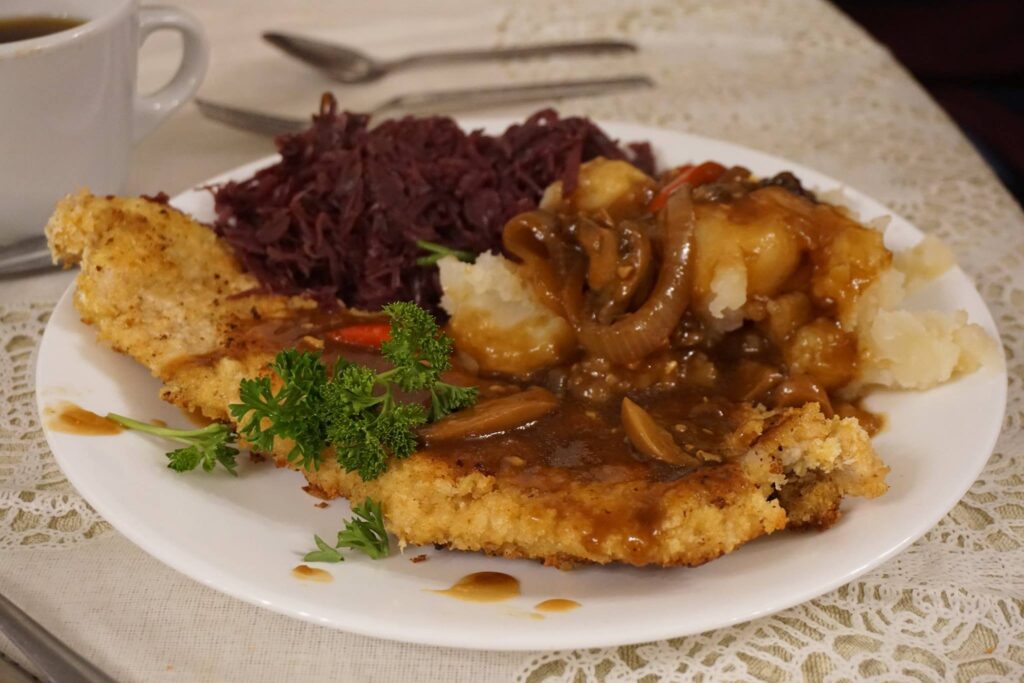 Hot Spiced Wine Recipe (Glühwein)
Ingredients:
1 Gallon Burgundy
1 Bottle Port Wine
1/2 part Water
1 cup sugar
1-2 Cinnamon sticks
1 dozen cloves
1 large orange, sliced
Directions:
Bring water with cinnamon sticks, clove, and sugar to a boil in a large pot.
Let simmer for 10 minutes to release the flavor of the spices. Adde the orange slices, burgundy, and port wine to the hot water, but do not boil.
Add more sugar if necessary..
Enjoy!
Ingredients:
 For the Rouladen
4 Boneless round steaks (Very thin, about 4 inches wide by 7 inches long)
Salt and pepper
Paprika
4 tbsp whole grain mustard (Or Dijon, regular yellow mustard)
8 Slices bacon
1/2 cup onion, finely diced
4 baby dill pickles (Halved of larger dill pickles quartered. Sweet pickle is also an option here.)
2 Tbsp olive oil
For the Gravy
2 cups beef broth
2 tbsp red wine (Can omit or replace with a couple of teaspoons of red wine vinegar)
1 tbsp tomato paste (or ketchup, in a pinch)
1 tsp Dijon mustard (or regular mustard)
Pinch paprika
Salt and pepper (to taste)
To Thicken Gravy
2 tbsp cornstarch
2tbsp cold water
For Garnish
Directions:
Preheat oven to 350 F
Prepare the rouladen by pounding out the beef until they are 1/4 inch thin and about 5 inches wide by 9 inches long. Sprinkle with salt, pepper, and paprika. Spread 1 tbsp of whole grain mustard over each of the 4 pieces of beef. Place 2 pieces of bacon over each piece of beef, side by side, trimming any part of the bacon that extends over the ends. Scatter each with diced onion, dividing evenly between the four pieces. With the widest end of the short side facing you, place two pickle halves end to end about 1 1/2 inches from the end. It's okay if they stick out the side at this point. Take the end closest to you and fold it up and over the pickles. Continue rolling by lifting and rolling until it is completely rolled. Taker a skewer and secure the end of the roll to the main part of the roll, so it doesn't unroll/ Trim any excess pickle sticking out the sides so it is even with the sides of the roll. Roll up the remaining beef pieces similarly.
Stir together the gravy ingredients in a medium bowl and set aside.
In a Dutch over or large, heavy bottomed, oven -proof dish with a lid, heat olive oil over medium-high heat. Add beef rolls to the pan, skewer/seam side down. Sear for a few minutes until lightly browned, then flip over and sear the other side. Place the rolls on their sides if necessary to sear the entire outside of each of the rolls.
Cook, covered in the oven until tender, about 1-1 1/2 hours (depending on the size of your rolls), flipping rolls over a couple of times during the cooking period.
Remove pot from oven and use tongs to remove rolls to a plate. Carefully remove the skewers from the rolls and discard, then cover plate loosely with foil while you thicken the gravy.
Place pot on the stovetop over medium-high heat. Combine cornstarch and cold water in a small bowl and add to liquid in pot. Bring mixture to a bowl, stirring, until thickened. If necessary add a bit more cornstarch/watch to gravy if not thick enough. Taste gravy and add additional salt, pepper, and paprika, to taste.
To serve, cut rolls in half diagonally in the middle. Place halves on side mashed potatoes and spoon gravy over-top. Garnish with chopped parsley, if desired.
Learn More About The Culture of Germany
Merry Christmas in German