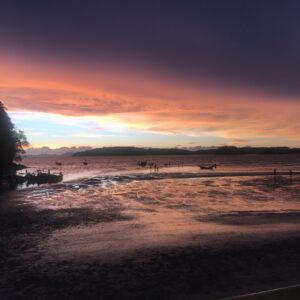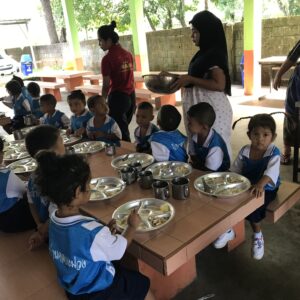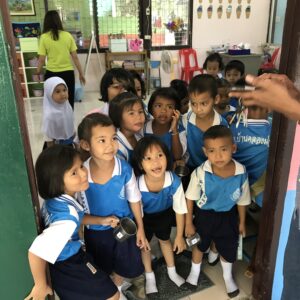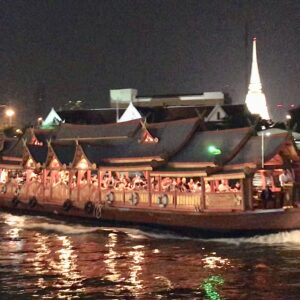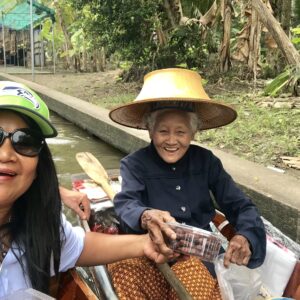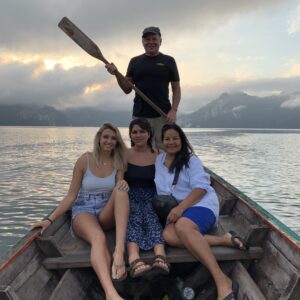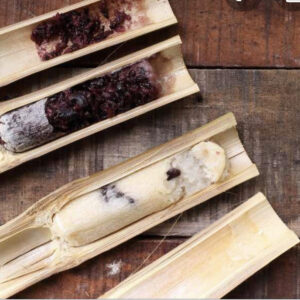 The Thai culture in the Spokane area is rather small, with less than 50 families representing Thailand in the area. There is not typically a celebration within the Thai community as a whole.Individually, however, many families celebrate Christmas with family church on Christmas Eve. Some other Thai families attend a Buddhist Temple. There is a Thai temple in Airway Heights in Spokane!
During the wintertime, the most popular dish is a dessert called Kao Laam, which consists of soaked sticky rice and sweet coconut milk, packed inside a section of bamboo. The treat is roasted over a bonfire and served! 
Another popular dish is a noodle soup called Kway Tiow Nahm Gai which means rice noodles in stock with chicken. Photos of Kway Tiow Nahm Gai and Kao Laam can be found below!
Traditional Thai Desserts
Some traditional Thai desserts are Khanom Tan, Khanom Tom, Khanom Chan. The descriptions below have been taken from TasteAtlas.com.
Khanom Tan is made of from the yellow flesh of palm fruit. The fruit is combined with coconut milk, sugar, and rice flour and then placed into individual containers made of banana leaves. The cakes are sprinkled with grated coconut and then steamed!
Khanom Tom is made of boiled rice flour dumplings, coated with shredded coconut melted along with palm sugar and coconut milk. The coconut filling is commonly infused with flower fragrance by using scented candles, while pandan leaves or butterfly pea extract are often added to the dough for color, fragrance, and flavor.
Khanom Chan is made with steamed butter of several starches, typically rice , tapioca, and arrowroot flour coconut milk, sugar, and a pinch of salt. The batter is divided into two halves, one flavored with only jasmine, and the other flavored with jasmine and pandan. The pandan leaves extract gives the latter a typical green color and a nutty flavor. The dessert is then steamed into several individual layers, traditionally 9, alternating between coconut-infused batter and coconut and pandan infused layers.
The sticky rice in these desserts is meant to symbolize family and how family "sticks together"! The green and yellow colors in these desserts is meant to represent wealth and the white is meant to represent purity and health!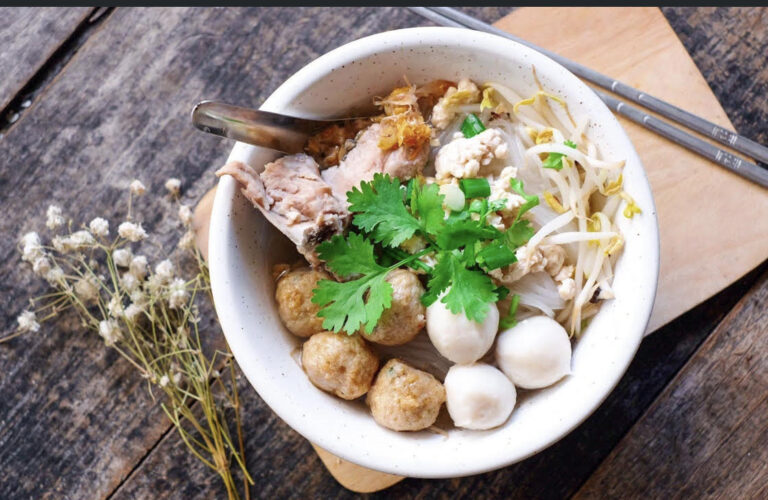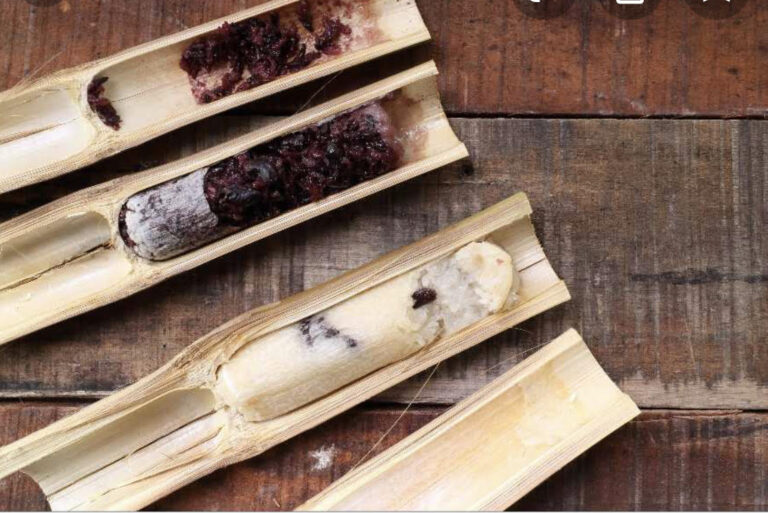 Kwaytiow Nahm Gai Beht
Rice Noodles in Stock with Roast Chicken Recipe
Ingredients
6 cups Basic Chicken Stock
1 lbs soft, fresh rice noodles, boiled until tender and drained
2 cups coarsely shreeded roast chicken or duck, which skin left on
6 tbsp fish sauce
1/2 cup thinly sliced green onion (Sliced crosswise)
1/2 cup coarsely chopped fresh cilantro, including some stems
Freshly ground white or black pepper
1/2 cup friend garlic in oil
Directions
 In a saucepan over medium heat, bring the chicken stock to a boil.
Meanwhile, place a generous handful of fresh rice noodles into each individual serving bowl.
Add a portion of the roast chicken or duck, a tablespoon of fish suace, and a heaping tbsp of green onions to the bowl.
When the stock is hot, lable 1 cup into each serving bowl. 
Add a sprinkling of cilantro leaves, a generous sprinkling or pepper, and a generous tbsp of garlic and oil.
Learn More About the Culture of Thailand